Aims and scope
Aims and scope
The journal provides a platform for educators across all sectors to research issues in the multi-disciplinary field of educational integrity. In addition, IJEI provides an opportunity for researchers and practitioners to take a leadership role in the relatively new field of educational integrity.
The IJEI is an international refereed journal where research on educational integrity is disseminated in an accessible and cost-effective format. The journal challenges readers to consider the changing nature of education in a globalised environment, and the impact that conceptions of educational integrity have on issues of pedagogy, academic standards, intercultural understanding and equity.
Articles of interest to the IJEI readership may include but are not limited to the following areas as they relate to educational integrity: plagiarism, cheating, academic integrity, honour codes, teaching and learning, institutional integrity and student motivation. Submissions may include original research (including practitioner research), theoretical discussions and review papers.

Annual Journal Metrics
Speed
57 days to first decision for reviewed manuscripts only
47 days to first decision for all manuscripts
87 days from submission to acceptance
28 days from acceptance to publication


Usage
46,073 downloads
233 Altmetric mentions

This journal is indexed by
Emerging Sources Citation Index (ESCI) - Clarivate
Scopus
Australian Education Index
CNKI
DOAJ
EBSCO Discovery Service
EBSCO Education Research Complete
EBSCO Education Source
EBSCO TOC Premier
ERIH PLUS
Google Scholar
OCLC
Summon by ProQuest
The Philosopher's Index
Waivers
Authors without funds to cover the Article Processing Charge (APC) are eligible for a discretionary waiver of the APC, and should request a waiver during submission.
International Journal for Educational Integrity also has waivers available at the Editor's discretion. Authors can contact the Editor in Chief for more information.
Reference reading
Handbook of Academic Integrity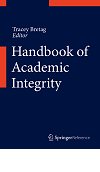 ISSN: 1833-2595 (electronic)