Articles
2018



This collection presents original research that sheds light on emerging issues and challenges for academic integrity. The diversity of contexts studied here aims at raising questions and showcasing findings from different perspectives.
Paraphrasing tools, translation software and 'article spinners' are text-processing applications easily found via the Internet. 'Spun' text misleads people into thinking that these tools create a new form of original writing. This thematic series will explore the use of automated text processing as an emerging threat to academic integrity.


2017


The recent explosion in contract cheating has given the international community of academic integrity scholars pause for thought. 'Contract cheating' is not the same as the less sinister and more widely accepted practice of 'ghostwriting' and has ramifications for individuals' learning outcomes, institutional reputations, educational standards/credibility, professional practice and public safety, particularly if it is somehow normalised as an acceptable way for academic work to be accomplished.
The thematic series offers the opportunity for this emerging threat to academic integrity to be explored in-depth, and from multiple perspectives, so that meaningful responses and solutions can be instigated.
Collection published: 8 August 2017


Exploring the potential of authentic assessment to minimise contract cheating
Students utilising online cheat sites to complete assignments has been identified as a significant problem for institutions. Although 'authenticity' has long been recognised as a core feature of good assessment practice, its role in nurturing academic integrity has not yet been adequately explored. Conducted over two years (2016 – 2018), this research project, led by the University of South Australia with other partners, will determine if and how authentic assessment may be used to assure academic integrity. Learn more about this project and keep up with updates and outcomes.
A MOOC on Academic Integrity
A free online course on Academic Integrity has just gone live. The course is created by the University of Auckland and is hosted on the Future Learn platform (Educator: Jason Stephens, University of Auckland, NZ). The course will explore academic integrity and how it can be demonstrated in work, study and research at university. Learn more
2005-2014 articles
The archival content of the International Journal for Educational Integrity can be located here.
The IJEI has been accepted in Scopus
The International Journal for Educational Integrity has been accepted in Scopus, the largest abstract and citation database of peer-reviewed literature. Coverage will start soon!
The IJEI is in the Web of Science's Emerging Sources Citation Index (ESCI)
The International Journal for Educational Integrity (IJEI), as a scholarly outlet selected and reviewed in ESCI, has been identified as important to key opinion leaders, funders, and evaluators worldwide. ESCI allows researchers to discover new areas of research in evolving disciplines, as well as relevant interdisciplinary scholarly content across rapidly changing research fields. All articles published in this journal are discoverable via the Web of Science with full citation counts, author information and other enrichment.

Editor's quote
"The International Journal for Educational Integrity, now in its 13th year as an open access online journal, is well placed to lead the field in responding to emerging threats to academic integrity. In particular, concerns about contract cheating and ghostwriters have made international headlines. Schools and higher education providers need to collaborate with quality assurance, regulatory and funding bodies, to address this global issue. Authors are encouraged to use the IJEI to publish innovative research that identifies the contexts and causes of contract cheating, and provides evidence-based solutions. I look forward to receiving your submissions." Tracey Bretag, DEd
Annual Journal Metrics
Speed
57 days to first decision for reviewed manuscripts only
47 days to first decision for all manuscripts
87 days from submission to acceptance
28 days from acceptance to publication


Usage
46,073 downloads
233 Altmetric mentions

This journal is indexed by
Emerging Sources Citation Index (ESCI) - Clarivate
Scopus
Australian Education Index
CNKI
DOAJ
EBSCO Discovery Service
EBSCO Education Research Complete
EBSCO Education Source
EBSCO TOC Premier
ERIH PLUS
Google Scholar
OCLC
Summon by ProQuest
The Philosopher's Index
Waivers
Authors without funds to cover the Article Processing Charge (APC) are eligible for a discretionary waiver of the APC, and should request a waiver during submission.
International Journal for Educational Integrity also has waivers available at the Editor's discretion. Authors can contact the Editor in Chief for more information.
Reference reading
Handbook of Academic Integrity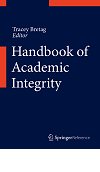 ISSN: 1833-2595 (electronic)