Academic integrity: Emerging themes and challenges

(Photo by rawpixel on Unsplash)

This article collection was proposed and developed by the International Journal for Educational Integrity and was published thanks to the support of an educational grant from Studiosity Pty Ltd. All published articles were independently prepared by the authors and have undergone peer review in accordance with the journal's standard policies and processes. Studiosity Pty Ltd. had no input into the topics covered or the articles themselves. The collection was edited by the Editor-in-Chief of the journal, who declares that they have no competing interests.
Edited by
Tracey Bretag, University of South Australia Business School

Original article
Academic integrity determines the trust that society has in the quality of education and the results of scientific research. More broadly, it influences honesty, respect for ethical principles, and the fair behaviour of society members.
Alla Anohina-Naumeca, Loreta Tauginienė and Tatjana Odineca
International Journal for Educational Integrity 2018 14:8
Published: 12 October 2018
Original article
This study investigates the types of citation transformation preferred by both English L1 (native language) writers and Turkish writers who use English as a foreign language (L2). The corpus consists of 34 theses..
Fatma Şeyma Doğan, Oktay Yağız and Işıl Günseli Kaçar
International Journal for Educational Integrity 2018 14:9
Published: 3 November 2018
Review
This commentary paper examines the issue of contract cheating in higher education, drawing on research and current debate in the field of academic integrity. Media coverage of this issue has reflected significant concerns...
Erica J. Morris
International Journal for Educational Integrity 2018 14:15
Published: 27 December 2018
Original Article
This article presents the current legislative and educative measures in place for plagiarism prevention in Kosovo, especially in the case of student work, and provides an analysis of the effectiveness of such ...
Sabiha Shala, Dukagjin Leka and Tina Morganella
International Journal for Educational Integrity 2018 14:12
Published: 27 December 2018
Annual Journal Metrics
Speed
57 days to first decision for reviewed manuscripts only
47 days to first decision for all manuscripts
87 days from submission to acceptance
28 days from acceptance to publication


Usage
46,073 downloads
233 Altmetric mentions

This journal is indexed by
Emerging Sources Citation Index (ESCI) - Clarivate
Scopus
Australian Education Index
CNKI
DOAJ
EBSCO Discovery Service
EBSCO Education Research Complete
EBSCO Education Source
EBSCO TOC Premier
ERIH PLUS
Google Scholar
OCLC
Summon by ProQuest
The Philosopher's Index
Waivers
Authors without funds to cover the Article Processing Charge (APC) are eligible for a discretionary waiver of the APC, and should request a waiver during submission.
International Journal for Educational Integrity also has waivers available at the Editor's discretion. Authors can contact the Editor in Chief for more information.
Reference reading
Handbook of Academic Integrity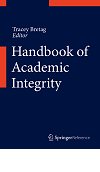 ISSN: 1833-2595 (electronic)