Call for papers - Academic integrity in Indonesia: Building on 20 years of progress
​​​​​​​

Edited by:
Ide Bagus Siaputra, Center for Lifelong Learning, Faculty of Psychology, Universitas Surabaya, Indonesia
Tracey Bretag, University of South Australia Business School, Australia

Since 1999, the Directorate General of Higher Education in Indonesia has been aware of various cases of academic misconduct, prompting the government to proclaim the importance of misconduct prevention in order to increase the quality of education while maintaining academic integrity. In 2010, the Ministry of National Education Regulation (MNER) announced regulations on plagiarism prevention and control in higher education. Unfortunately, to date these regulations have had little effect on the prevention and eradication of academic misconduct; nor has practical direction and guidance been provided in relation to scientific publication ethics.

Over the last two decades there have been numerous changes and developments in the area of scientific publication in Indonesia. Up until 2018, more than 51,000 scientific journals (with ISSN) have been established in Indonesia, but only around 2,000 of these are indexed in SINTA (Science and Technology Index). The spike in scientific publication coincided with an increase in academic integrity violations (plagiarism, contract cheating, publication in predatory journals and/or conferences, manipulation of citations via 'cartels').

Looking to the future, there are several strategic efforts planned to promote academic integrity in Indonesia. These include organizing scientific activities attended by key stakeholders, the publication of an academic integrity guidebook and the development of new regulations by the Ministry of Research, Technology, and Higher Education.

This Call for Papers aims to gather contributions from Indonesian researchers, authors, and editors – and also other parties that are involved in research in the Indonesian context – in order to start a national campaign in Indonesia to address malpractice and fraud in academic publication. This thematic collection welcomes contributions that are empirical, theoretical or case studies and which address any of the following topics:

academic integrity training for undergraduate students
plagiarism at all levels
research training (for students and academics)
the impact of pressures to publish
supervisory relationships and abuses of power
research integrity guidelines – national and institutional
ethics approval and compliance
data collection, management and reporting
conflicts of interest
corruption
authorship
citation practices
peer review
indexing and accreditation of journals
predatory journals
Authors are advised to provide new insight and recommendation for further action.

Deadline for submission: 31st July 2019

The deadline for article submission is July 31st, 2019. Submitted papers will be reviewed in a timely manner and published directly after acceptance (i.e. without waiting for the accomplishment of all other contributions). Thanks to the International Journal for Educational Integrity (IJEI) open access policy, the articles published in this thematic series will have a wide, global audience.

Submission instructions
Before submitting your manuscript, please ensure you have carefully read the submission guidelines for International Journal for Educational Integrity. The complete manuscript should be submitted through the journal submission system. To ensure that you submit to the correct thematic series please select the appropriate section in the drop-down menu upon submission. In addition, indicate within your cover letter that you wish your manuscript to be considered as part of the thematic series on series title. All submissions will undergo rigorous peer review, and accepted articles will be published within the journal as a collection.

Submissions will also benefit from the usual advantages of open access publication:
Rapid publication: Online submission, electronic peer review and production make the process of publishing your article simple and efficient
High visibility and international readership in your field: Open access publication ensures high visibility and maximum exposure for your work - anyone with online access can read your article
No space constraints: Publishing online means unlimited space for figures, extensive data and video footage
Authors retain copyright, licensing the article under a Creative Commons license: articles can be freely redistributed and reused as long as the article is correctly attributed
Annual Journal Metrics
Speed
57 days to first decision for reviewed manuscripts only
47 days to first decision for all manuscripts
87 days from submission to acceptance
28 days from acceptance to publication


Usage
46,073 downloads
233 Altmetric mentions

This journal is indexed by
Emerging Sources Citation Index (ESCI) - Clarivate
Scopus
Australian Education Index
CNKI
DOAJ
EBSCO Discovery Service
EBSCO Education Research Complete
EBSCO Education Source
EBSCO TOC Premier
ERIH PLUS
Google Scholar
OCLC
Summon by ProQuest
The Philosopher's Index
Waivers
Authors without funds to cover the Article Processing Charge (APC) are eligible for a discretionary waiver of the APC, and should request a waiver during submission.
International Journal for Educational Integrity also has waivers available at the Editor's discretion. Authors can contact the Editor in Chief for more information.
Reference reading
Handbook of Academic Integrity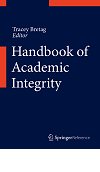 ISSN: 1833-2595 (electronic)